Cello in a Box! is a wonderful direct sales company offering quality, affordable products that will simplify your life from award winning cellophane wraps sets that make gift giving a breeze to gifts from the heart that won't break the bank! Also, they have a wonderful Independent Rep Program! Here are some wonderful reasons to check it out!
Items starting at just $2.79
Crafting and project kits that are fun gifts to make
Gifts for the affordable and the thrifty
Cello sets that can make a $1.00 gift look like a $10.00 gift instantly
Tried and tested products ~ Customer Favorites
Please contact me for more information, or if you would like to go directly to the site just click any of the pictures or the link at the bottom. Please use Independent Rep #302. Thank you so much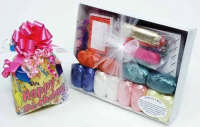 Thank you so much for taking the time to check out my site and please let me know if you need anything! Thank you!